1963 the big freeze

No hi vis jackets clearing a pair of diesels near Buxton..jpg
(Size: 48.72 KB / Downloads: 397) Near Buxton and not a hi viz jacket in sight.
Today, they would be waiting for machines to arrive, God forbid anyone should pick up a shovel...
Looks like they have got the machine already, but the shovels have been issued to rescue the machine!
I remember that winter...I was in the Army in Germany and we were living in tents up on the Luneberg Heath. It was so cold we had to start the vehicles for 5 minutes every half hour through the night. it was a winter firing exercise for Honest John tactical nuclear tipped rockets (not with nuclear warheads fitted I hasten to add!) The rocket solid propellant temperature registered minus 18 Fahrenheit when we did a live firing one afternoon!
18-12-2020, 06:22 PM (This post was last modified: 18-12-2020, 06:29 PM by Dennis Nicholas.)

Nippy in snow 1978 001.jpg
(Size: 18.49 KB / Downloads: 208)
Who needs a steam train snow plough when you have a Nippy?  (the next big freeze 1978
And for when it melts and there is a flood.
---
Where are you now EJ 4322?
That looks like a PBK12 canoe on top one of Percy Blandford's designs.
It is a 16 foot.  Sorry I can't remember the makers.  Still sitting in my barn.  Gorgeous girlfriend in passenger seat became wife in spite of this hint at my insanity.  Car sold to buy uniform when I went to sea 1968.  But now have another Nippy....the snow plough ATR 860.
Tom Abernethy writes:
"Hi Ruairdh,
You might like to put this on the Forum. My pal Loafy Weir's Nippy on the frozen Endrick River in 1963. The car was subsequently owned by Peter Relph and eventually went to Switzerland.
My own Chummy was on the ice at Bingham's pond on Gt. Western Rd. (Glasgow) a few times during that freeze and was used to tow skaters around in a long line and catapult the last in the line off at great speed."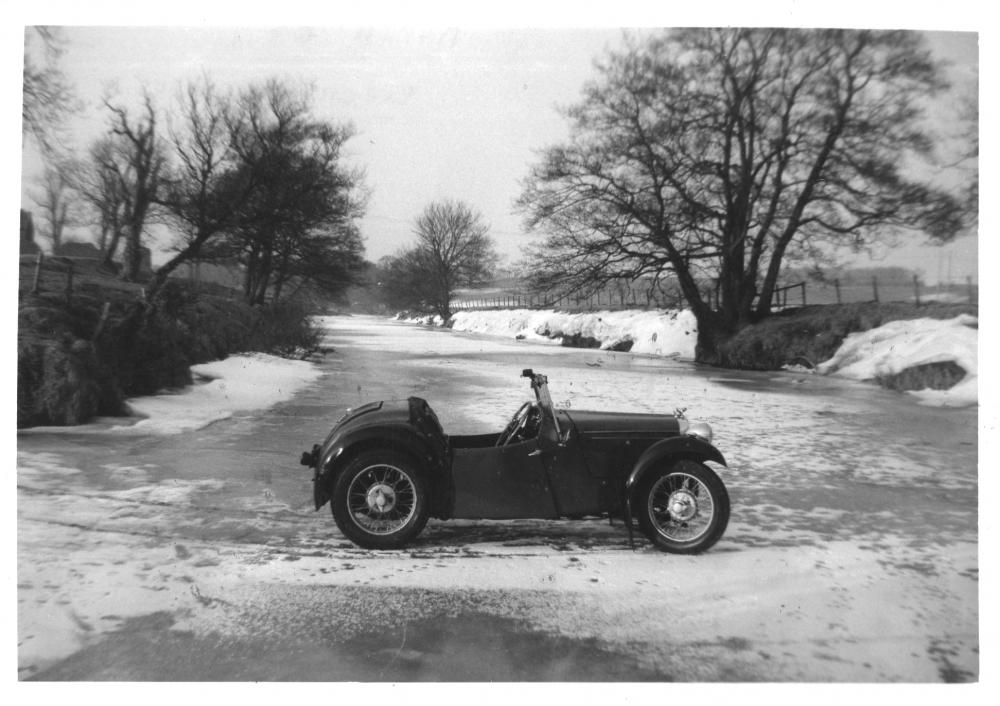 I was at school at Rannoch during the big freeze. It was COLD, -8 Fahrenheit. Electricity hadn't penetrated that far so heating was bottled gas. That didn't work too well either as it tended to freeze too. Lemonade froze and the bottles exploded.
We had great fun with our Morris Commercial Artillery Tractor clearing the road around the Loch and up to Rannoch Station with the snow plough attached..
Jim
Users browsing this thread: 1 Guest(s)