My father bought the Saloon, we still have, in 1964 with money given to him by his mother and grandmother for his 21st birthday.
He bought it from a man called Nick Gifford - some years back he read an newspaper article about an ex-film producer turned jam maker of the same name and used the email contact given to reconnect.  Last year after several emails and phone calls I was able to meet with Nick in person when he visited his daughter near Glasgow.
Nick told me that he bought the car from a scrap yard near his school in Blanford Forum aged 14/15.  He set about restoring the car with help of the school janitor over a period of years (we now suspect that the janitor in question was none other than Ray Stephens - but that is yet to be proven!).  He completed his education at the school and was then able to drive the car home to his parents in Bristol, selling it a few years later to my father.
I intend visiting Nick this summer at his home in France on our upcoming summer tour in the Pearl.
Nick sent me some photos of the car this morning - the first is early on and has his own painted number plate, sidelights on the wings and the correct headlights.  The second photo is pretty much as my father bought it and largely as it is today - painted plate (by some notable artist who Nick is trying to remember!!) small headlamps and Austin 12/20 sidelights up on the scuttle.
Some years ago I acquired the correct window gear for the passenger door, which has always been missing, and to my surprise the door was too narrow to accommodate the winding gear.  Nick confirmed the door was a replacement hand made by a polish body worker - it is well made but too slim!
Nick has promised to write down the story he recalls of the car do that I can put it with the rest of the paperwork.
54 years later and a further 350000 miles down the road the car is still in use.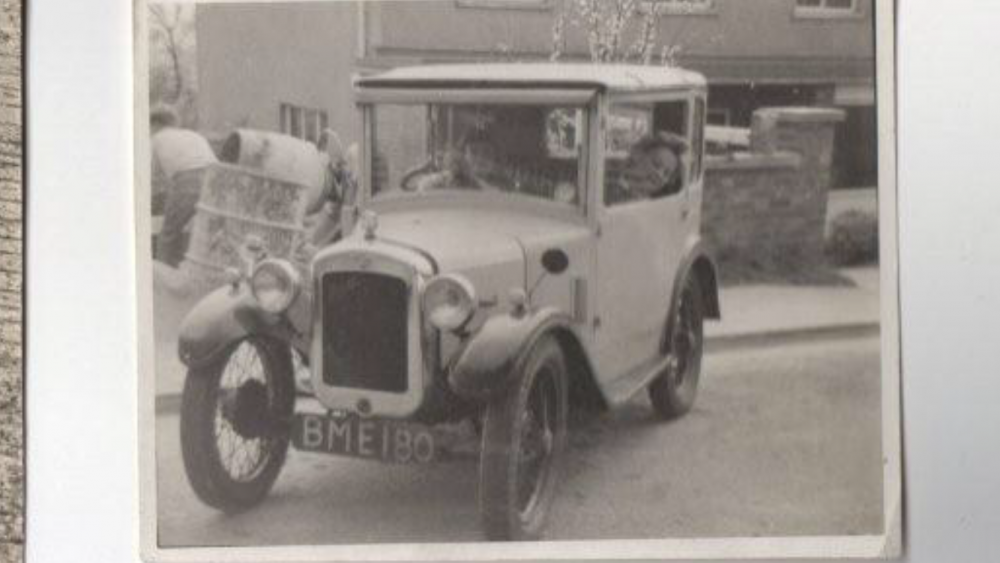 And today...